The name OTRS is abbreviated by Open-source Ticket Request System, an open source defect tracking management system software.OTRS CLASSIFES SERVICE REQUESTS SUBMITTED THROUGH VARIOUS CHANNELS, INCLUDING TELEPHONE, MAIL, AND DIFFERENT QUEUES, SERVICE LEVELS, SERVICE PERSONNEL TO TRACK AND RESPOND TO CUSTOMERS THROUGH THE OTRS SYSTEM, AND OTRS PROVIDES A DEPARTMENT OR TEAM COORDINATION ENVIRONMENT FOR PROCESSING, QUERYING, AND TRACKING IN A MORE EFFICIENT MANNER THAN TRADITIONAL PROCESSING PROCESSES.
First, the preparation environment
1. Disable SELinux
Configure SELINUX in file/etc/selinux/config:

Restart the system.After reboot, confirm that the command getenforce returns as Disabled:
2. Prepare the required database
Install MySQL (or MariaDB) with root users executing the following commands:
yum -y install mariadb-server
Modify the database default settings to apply to OTRS, use the text editor to create a new file/etc/my.cnf.d/zotrs.cnf, including the following:
[mysqld]
max_allowed_packet s 64M
query_cache_size s 32M
innodb_log_file_size s 256M
Perform systemctl start mariadb to start the database server and activate the modifications just made.
Then run the command/usr/bin/mysql_secure_installation and follow the on-screen instructions to set the root password for the database, remove anonymous access, and delete the test database.
OTRS requires utf8 as a database storage code.
Log in to the database, create a new local database, and execute the following commands:
Create database otrs CHARACTER SET utf8;
GRANT ALL PRIVILEGES ON OTrs. . . . . . . . . . . . . . . . [email protected] . . . . . . . . . . . . . . . . . . . . . . . . . . . . . . . . . . . . . . . . . . . . . . . . . . . . . . . . .
Database new complete, database name and user for otrs, password 123456
Second, installation of OTRS
Visit the URL https://ftp.otrs.org/pub/otrs/RPMS/rhel/7/ pull to the bottom, copy the latest version of the address, and perform the following command:
wget https://ftp.otrs.org/pub/otrs/RPMS/rhel/7/otrs-6.0.20-02.noarch.rpm
yum install otrs-6.0.20-02.noarch.rpm -y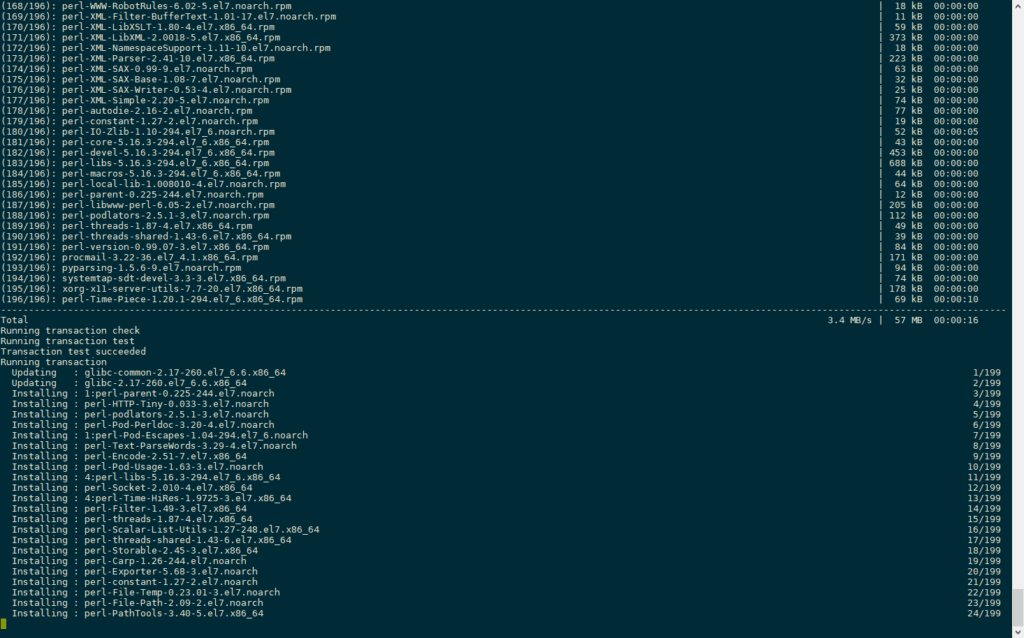 Wait for the installation to complete, perform systemctl restart httpd, restart Apache.
Perform systemctl stop firewalld to close the firewall or release port 80.
In addition to the Perl module installed through the RPM package, OTRS requires some additional Perl modules that you can install manually.By executing the file bin/otrs located under the directory/opt/otrs. CheckModules.pl to check for missing modules.
Perform the following command to complement the component:
yum install epel-release-y
yum install "perl(Text:: CSV_XS)" -y
yum install perl-DBD-MySQL-y 
You can then access the Web installer by visiting http://your domain or IP/otrs/installer.pl.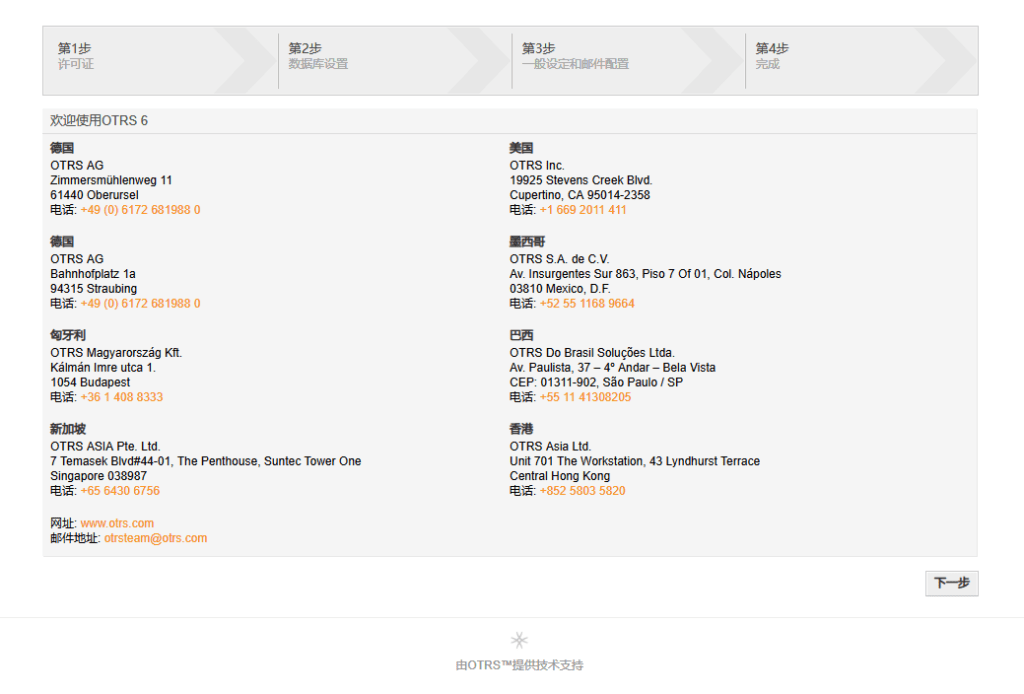 Third, the web installer to complete the deployment

Fill in the database information, click test database settings, pass and click next.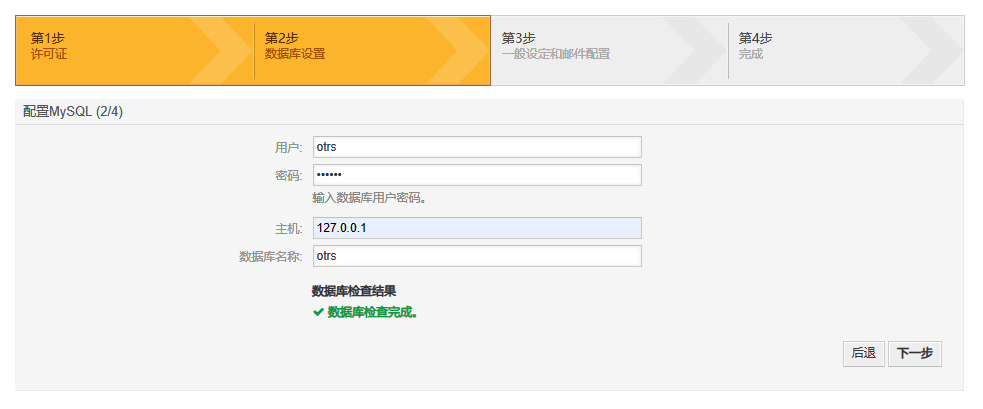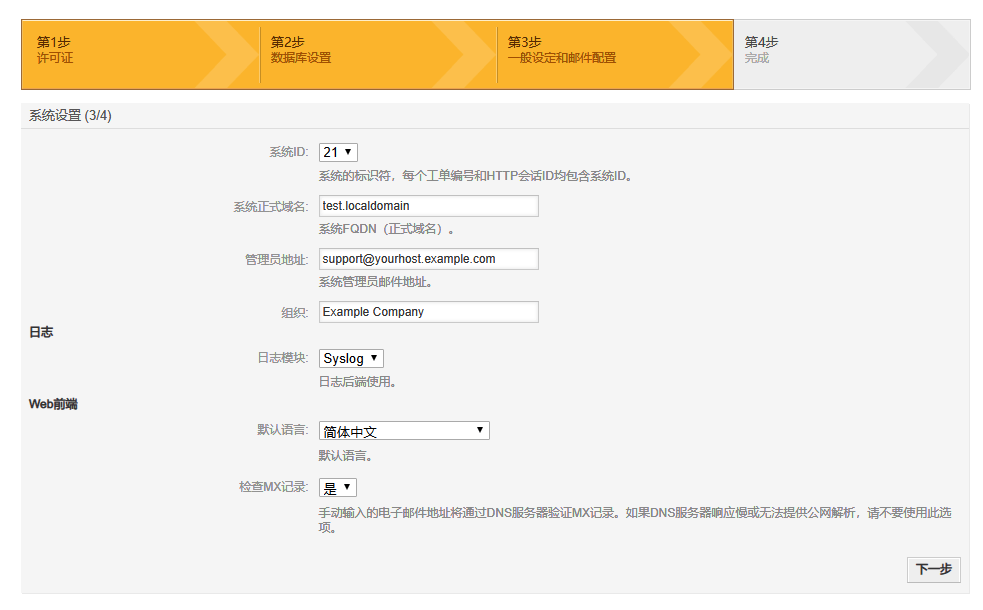 Fourth, the launch of OTRS Daeweres and Cron missions
The execution of the command is as follows:
sudo otrs
/opt/otrs/bin/otrs. Daemon.pl start
/opt/otrs/bin/Cron.sh start
Above, complete the deployment.